Deakin & Francis X Sinclair Bond Inspired Cufflinks
23 December, 2016
Anthony Sinclair partnered with Deakin & Francis to release a pair of cufflinks inspired by the pair worn by Sean Connery in the early Bond films.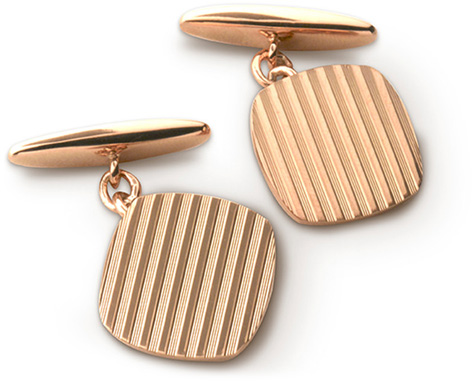 These stylish cufflinks quickly sold out but a new batch is scheduled for January delivery and can be pre-ordered on Mason & Sons for £245.
The cufflinks are worn in the first scene featuring James Bond, in Dr. No at the Baccarat table in London's famous Les Ambassadeurs Casino.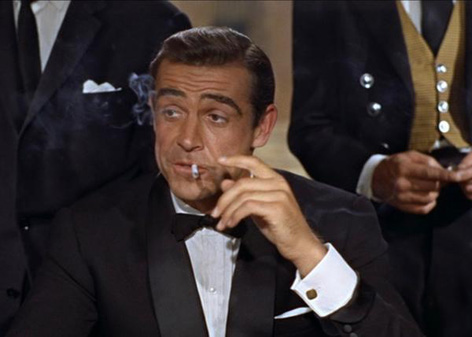 James Bond in Dr No
Bond wears a midnight blue Anthony Sinclair dinner jacket, a Lanvin double-cuffed dress shirt, and a pair of square cufflinks in rose gold, with rounded corners and engine turned detail.
In Goldfinger (1964) we see Bond wearing cufflinks again, and it looks like the same cufflinks he wore with his dress shirt in Dr.No. Bond wears the cufflinks during the meeting in M's office, for the black-tie dinner with Col. Smithers at the Bank of England, and when Q shows Bond the Aston Martin DB5 for the first time.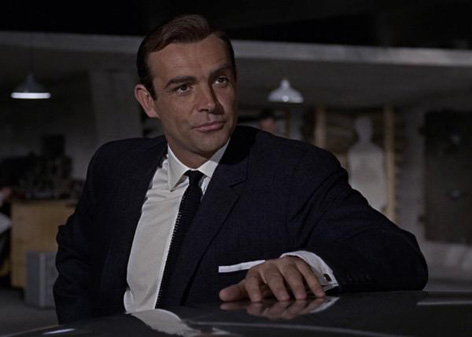 James Bond wearing cufflinks when seeing the Aston Martin DB5 for the first time in Goldfinger
Later in the film, following a round of golf at Stoke Poges with Auric Goldfinger, Bond appears to switch to a pair of unusual, torpedo-shaped cufflinks with his Anthony Sinclair barleycorn tweed jacket and ecru double cuff shirt. Their shape is quite a departure from those Connery has worn up until this point, and they have been the subject of bemusement with Bond-style aficionados for many years.
Whilst on first inspection these seem to be a different pair of cufflinks entirely, an eagle-eyed employee of Anthony Sinclair recently spotted that they are, in fact, the same pair... they have simply been put in backwards!

This could've been a mistake by the wardrobe department whilst on location that wasn't picked up by continuity. Perhaps Connery was confused by the contraptions whilst trying to dress himself, or maybe James Bond had actually intended to make a fashion statement to follow on from the blue towelling onesie worn earlier in the film.
Throughout the remainder of the movie, Bond continues to wear the cufflinks with various outfits, the "correct" way round. There is even a moment where he adds a tie-slide to his outfit. However, Sean Connery would never wear cufflinks this often as Bond again, even going so far as to pair a cocktail cuff shirt with his dinner jacket in Thunderball.
Anthony Sinclair approached British jewellers Deakin & Francis (who also worked on cufflinks for the Mr Porter's Kingsman: The Secret Service brand), to create a product that emulated the originals, replicating them as closely as the reference material would allow.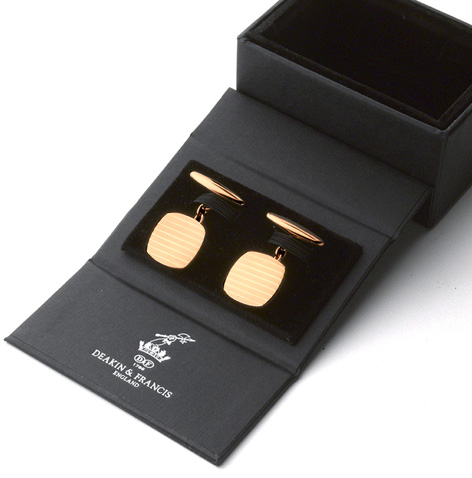 The Bond inspired Deakin & Francis X Sinclair cufflinks are available in both Rose Gold-Plated Sterling Silver (which resemble the movie cufflinks) and Sterling Silver.