Three top Bond outfits
09 September, 2014
I was asked by the website Country Attire to name three of my favourite Bond outfits. There are many great outfits to choose from but here is my selection.
My favourite Sean Connery outfit is the three piece suit from Anthony Sinclair, worn in the movie Goldfinger.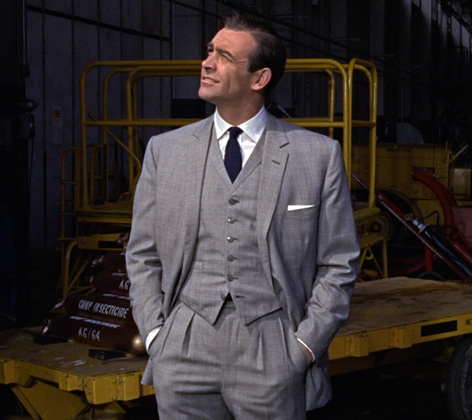 The grey Glen plaid suit has a Conduit Cut with a subtle hourglass silhouette, created by Anthony Sinclair. I had the pleasure of getting this bespoke suit fitted at Anthony Sinclair's last year, and the process of getting a suit created for you plus the high quality and unique shape make this one of my favourite Bond outfits. It should be worn with a white Turnbull & Asser shirt with turnback cuffs, a black knitted tie and a pair of black dress shoes.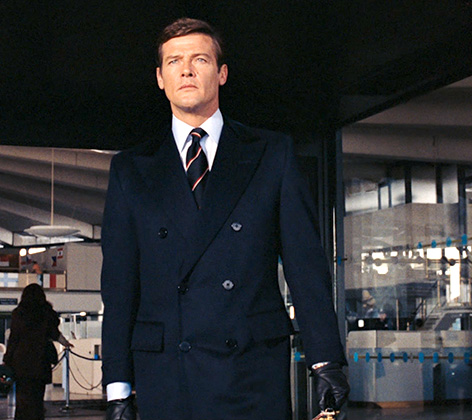 The very stylish outfit worn by Roger Moore in Live And Let Die is another favourite of mine. When Bond visits New York he wears a perfectly fitting navy outfit with a blue suit, a very nice double breasted navy coat (knee length) with velvet top collar, light blue shirt with turnback cuff, black leather gloves and black tassel slip-ons. But the detail that makes it so nice is the red, white and blue Royal Navy regimental tie which completes the outfit.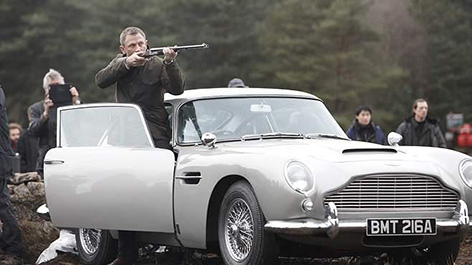 Bond's outfit in the Scotland scenes in SkyFall is one of my favourite casual outfits. Daniel Craig wears an olive green Barbour X To Ki To Beacon Heritage sports jacket, with a blue N-Peal sweater, dark All Saints corduroy trousers and brown leather Crockett & Jones Islay boots. The Barbour jacket became my favourite winter jacket. It was beautifully designed by Tokihito Yoshida, with a very slim fit around the shoulders and waist, classic Barbour tartan lining, many useful pockets and subtle leather details. The limited edition jacket was very popular and sold out quickly when the movie came out, but Barbour was clever enough to issue a new version of the Beacon Sports Jacket in the Dept B collection, which is virtually identical to the original X To Ki To jacket seen in SkyFall (compare the jackets here).
What would you like to see Bond wear in the next film?
For Bond 24 I hope to see 007 once more in a Navy uniform, a navy outfit similar to the one worn by Roger Moore in Live And Let Die (but updated to the current style of course) or a more casual outfit with thick navy suit or sweater in an appropriate scene. James Bond is a Royal Navy Commander and in the Daniel Craig movies we have not yet seen this reflected in his outfits.
What is your favourite outfit? Post a comment below, on Facebook or on the Forum.
An edited version of this article is published, together with the lists of fellow Bond fans, on the Country Attire website.
All copyrights for products, logos, images etc are held by their respective owners. Bond Lifestyle is not responsible for these articles, please take any queries up with the author.
---