Trigger Mortis: Unlocking Bond - an interactive pop-up experience
24 August, 2015
To mark the publication of Trigger Mortis, the new James Bond novel, an interactive 1950s style pop-up experience, inspired by author Anthony Horowitz's novel set in 1957, is being placed within Waterstones Piccadilly, London for one week only, from Monday 7th to Sunday 13th September 2015.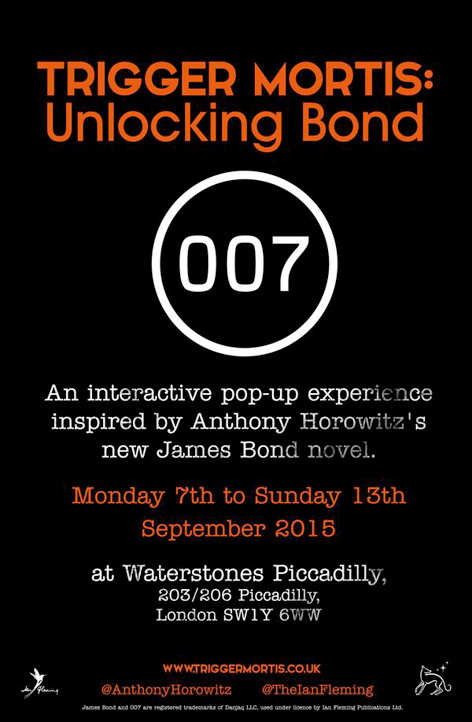 Visitors will be transported back to the 1950s, the walls, shelves and tables will incorporate references to Fleming's books, to Bond, to Trigger Mortis, and to the time period; books about the Cold War, space travel and framed prints from the period, plus 50s TV footage. There will be a costumed actor, secret codes and clues to solve, a hidden door leading to an antechamber, and mysterious phone calls...
An audio as well as visual experience, visitors will be able to enjoy Selma star David Oyelowo's reading of Trigger Mortis.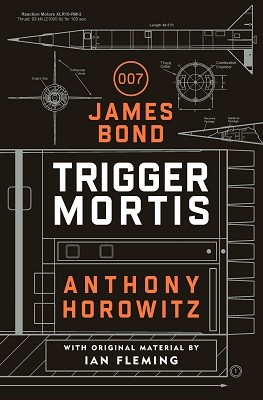 Pre-order Trigger Mortis Waterstones Exclusive Edition £9.49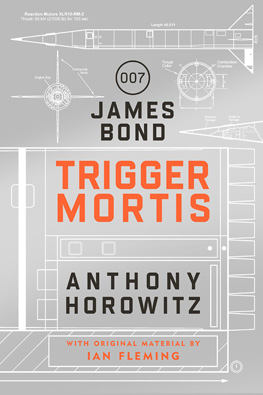 Pre-order Trigger Mortis on Amazon.co.uk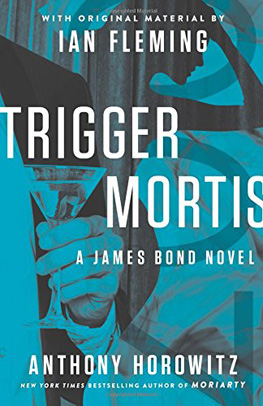 Pre-order Trigger Mortis on Amazon.com
The pop-up will contain original Fleming material as well as objects once belonging to Fleming – including the book by Ornithologist James Bond, the namesake of our eponymous spy. Alluding to Trigger Mortis, there will be Hanafuda cards, Grand Prix posters, rockets, war memorabilia and much more
The pop-up experience will open exclusively to ticket-holders attending the publication launch with Anthony Horowitz on Monday 7th September, tickets for which are on sale at the Waterstones website. The space will then be open to the general public from Tuesday 8th September to Sunday 13th September. Visiting the pop-up is free, however to participate in the Trigger Mortis challenge a copy of the book must be purchased.
Address: Waterstones Piccadilly, 203/206 Piccadilly, London SW1Y 6WW
Anthony Horowitz Tour Dates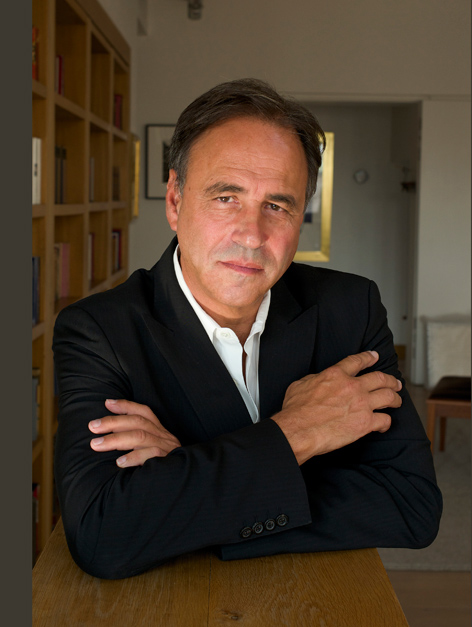 Anthony Horowitz
Monday 7th September, 7.30pm - Waterstones Piccadilly. Tickets £18.99 including a Waterstones Exclusive Edition of the book, or £5 without. Refreshment included on arrival. Join bestselling writer Anthony Horowitz on the eve of publication of one of the most talked about books of the year. Anthony will be in conversation with BBC Radio 4's Mishal Husain, reading from Trigger Mortis and talking about the challenge of following in the footsteps of the man he considers the master - Ian Fleming. Fans will not only have a chance to buy the book before anyone else and get it signed by the author himself.
Booking: https://www.waterstones.com/events/an-evening-with-anthony-horowitz/london-piccadilly
Wednesday, 9th September, 7pm - 9pm - Manchester Festival, Central Library
Thursday, 10th September, 7pm - 9.30pm - The Roxy, Edinburgh
Friday, 11th September, 8pm - 10pm - DLR Lexicon Library, Dun Laoghaire, Ireland
Pre-order Trigger Mortis Waterstones Exclusive Edition £9.49
Pre-order Trigger Mortis on Amazon.co.uk
Pre-order Trigger Mortis on Amazon.com