James Bond Spirit 54 Soufrière yacht for sale and on display at London On-Water show
13 April, 2016
The Spirit 54 'Soufrière' yacht, seen in Casino Royale (2006), will be displayed at the London On-Water Show from 4 - 7 May 2016.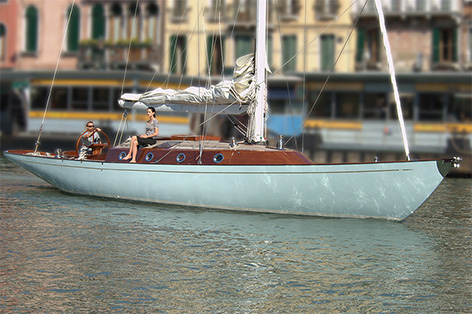 Daniel Craig and Eva Green on the Spirit 54 Soufrière in Casino Royale
Photo © 2006 Danjaq, LLC & United Artists Corporation
Following her film debut, Soufrière was sold and enjoyed subsequent years cruising and participating in competitive racing. She was then recently returned to Spirit Yachts where Soufrière was given a fresh coat of paint on her elegant ice blue coloured hull and all external varnish was stripped and re-varnished where necessary. The interior woodwork has been re-varnished where required and all equipment from the engine to the rigging has been inspected and serviced. She will be on display in berth C09 at the London show. and is now for sale through Spirit's brokerage department for £600,000.
Spirit Yachts CEO and head designer Sean McMillan comments, "The Sprit 54 Soufrière was designed specifically for Casino Royale following the production company's search for a classically elegant, unique, British built yacht. The scene in which Daniel Craig and Eva Green glide into Venice onboard Soufrière granted her a place in British film history. What better place to re-launch her to the public than London; the home of James Bond?"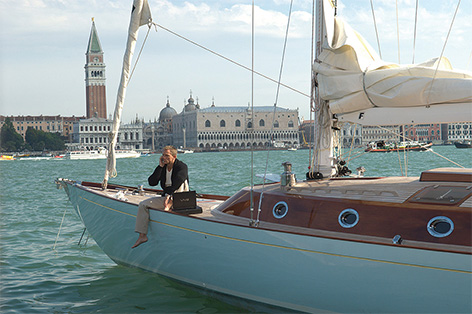 Daniel Craig on the Spirit Soufrière in Casino Royale
Photo © 2006 Danjaq, LLC & United Artists Corporation
Describing the filming of Casino Royale, McMillan adds, "Probably the most challenging voyage for Soufrière came during filming in Venice when we had to take the rig in and out ten times; she was the first sailing yacht to go up the Grand Canal for 300 years."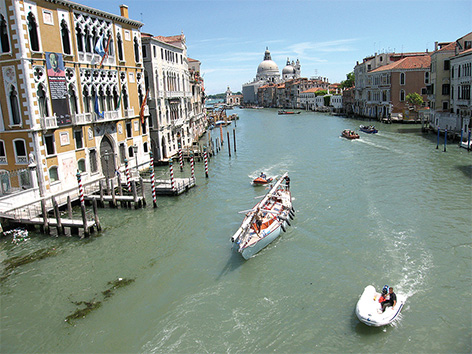 The Sprit Soufrière in the Grand Canal in Venice
Photo © 2006 Danjaq, LLC & United Artists Corporation
Spirit Managing director Nigel Stuart will be at St Katharine Docks throughout the show to present Soufrière and welcomes any show visitors to come and have a look.
The London On-Water show takes place at St Katharine Docks (near Tower Bridge) from Wednesday May 4th - Saturday May 7th, 2016. Sunseeker, another James Bond related yacht brand, will also have some of their yachts on display.
For more information and tickets visit www.londononwater.com.
Find out more about Spirit Yachts at www.spirityachts.com and the dedicated 007 Yacht page.
Read more about the Spirit 54 yacht in Casino Royale
Thanks to Frank Anderson for the alert