Eva Green Sin City 2 poster banned
30 May, 2014
A teaser poster for Sin City 2: A Dame To Kill For, featuring Eva Green in a see-through robe has reportedly been deemed inappropriate by the MPAA (Motion Picture Association for America). Just one more reason to show the poster of one of the best Bond Girls: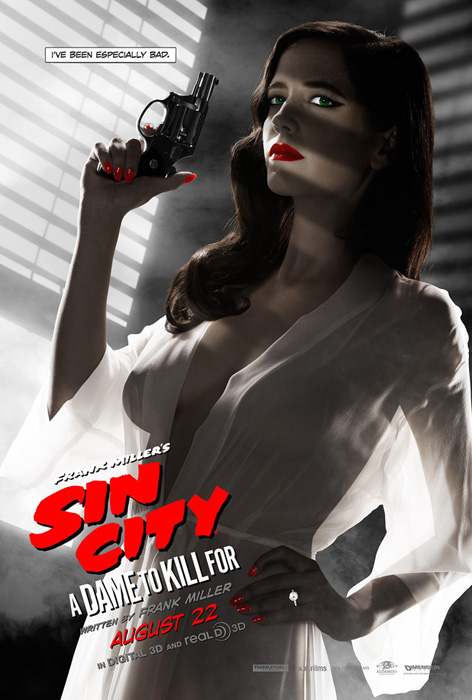 The poster is said by Page Six to have been rejected on the grounds of "nudity - curve of under breast and dark nipple/areola circle visible through sheer gown".
Eva Green, who is currently also starring in the horror series Penny Dreadful, is joined in the Sin City sequel by an all-star cast including Jessica Alba, Rosario Dawson, Jaime King, Powers Boothe, Mickey Rourke, Bruce Willis, Josh Brolin, Jamie Chung, Joseph Gordon-Levitt, Dennis Haysbert, Marton Csokas, Julia Garner, Juno Temple, Ray Liotta, Stacy Keach, Christopher Meloni, Lady Gaga, Jeremy Piven, and Crystal McCahill. The film will also feature a cameo from Lady Gaga.
Sin City: A Dame to Kill for opens on August 22, 2014 in the US and on August 29th in the United Kingdom.
Five other posters for the movie were released online earlier this month.

Watch the Sin City 2 trailer below:
Eva Green is a former Bond Girl, playing Vesper Lynd in the James Bond film Casino Royale. She was cast at the last minute for that role. Green was approached in mid-2005 but at first turned it down. Principal photography was already underway, and director Martin Campbell noted casting the role was difficult because "we didn't have the final script and a Bond girl always had the connotation of tits 'n' ass." Campbell saw Green's performance in the director's cut of Kingdom of Heaven, and approached Green again. She read the script, and found the character of Vesper far deeper than most Bond girls. Green's performance was well received: Entertainment Weekly called her the fourth best Bond girl of all time and IGN named her the best femme fatale, stating "This is the girl that broke – and therefore made – James Bond". Green won a BAFTA and an Empire award for her performance.