Daniel Craig, Naomie Harris, Ben Whishaw, Léa Seydoux and Ralph Fiennes filming in London
04 June, 2015
The last two weeks, several SPECTRE scenes were being filmed in the heart of London, with the main cast attending, including Daniel Craig as James Bond, Naomie Harris as Moneypenny, Ben Whishaw as Q, Léa Seydoux as Madeleine Swann and Ralph Fiennes as M.
spoiler alert
See the photos on Daily Mail 1, Daily Mail 2, Daily Mail 3.
Locations include Trafalgar Square, The Mall, Admiralty Arch, Westminster Bridge and Whitehall Road.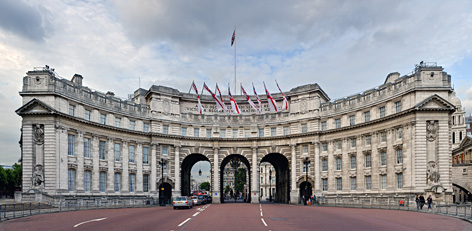 Admiralty Arch, London
Action outfit
Daniel Craig as James Bond was seen filming action sequences around Westminster Bridge wearing a dark action outfit. This is the same outfit worn by Bond on the speedboat when he chases a helicopter, a sequence that was filmed a few weeks ago and the same sweater (and trousers?) as seen on the teaser poster.
The sweater is the N.Peal Fine Gauge Mock Turtle Neck sweater as seen on the teaser poster. Over this sweater Craig wears a John Varvatos Suede Racer Jacket. The jacket features a two-way front zip closure, hand pockets and zip cuffs (thanks to Simon Ruzgar for the ID, also check out The Bond Experience video about this jacket).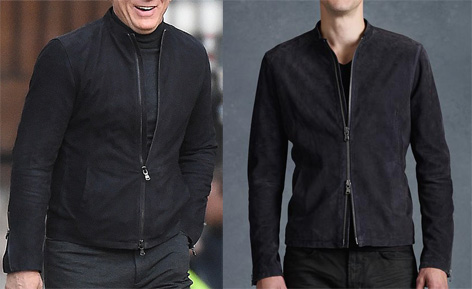 Daniel Craig (left) wearing the John Varvatos jacket (product image on the right) over the N.Peal sweater in SPECTRE
Bond's brown shoes seem to be the Sanders and Sanders Chukka boot (available on Mason & Sons).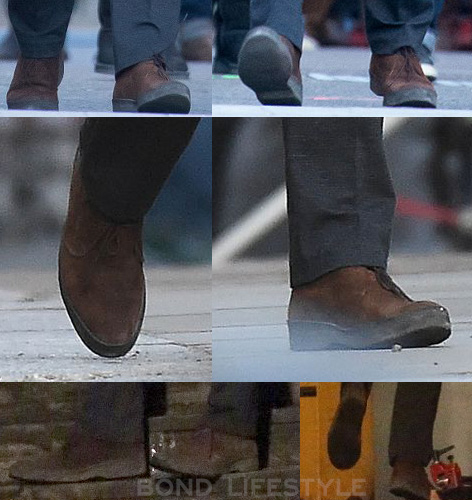 These shoes were made famous by Steve McQueen, the movie star and style icon that has inspired Daniel Craig in some of his personal clothing choices as well. The color of the Chukka boot is Snuff Suede, but is also available in a slightly darker Chocolate Suede or other colors.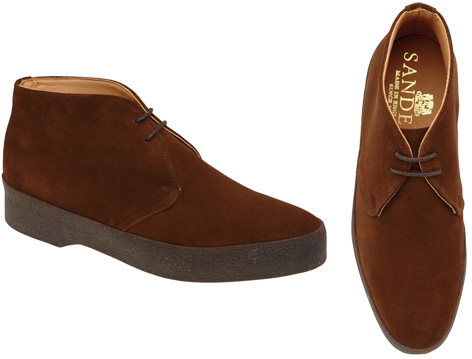 Suit and coat outfit
Craig was also spotted wearing a completely different outfit for another scene near Whitehall. We can assume that many of these items are Tom Ford, including the shirt, tie, jacket and suit although this is not confirmed.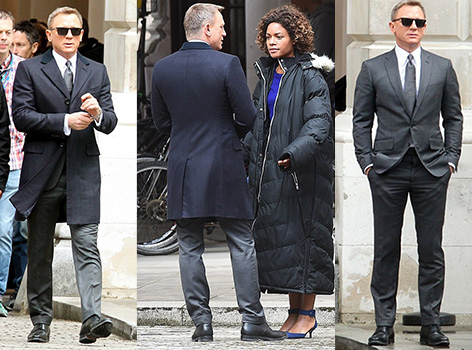 He wears a grey pinstripe suit, white shirt with dark grey necktie, navy blue coat with velvet collar and black leather shoes.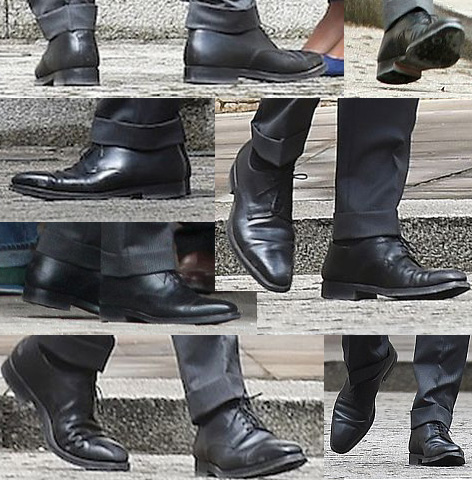 The shoes are almost certainly Crockett & Jones, the Norwich model. We can see the Dainite rubber sole in one of the shots. The sunglasses were only worn between shooting and most likely won't be seen in the film.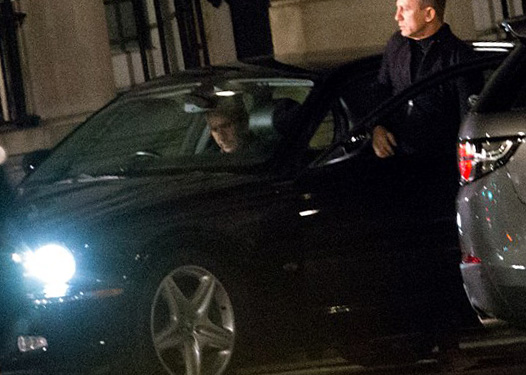 M and Bond get in a black Jaguar XJ
Ralph Fiennes (M) and Daniel Craig (as Bond) were spotted stepping into a dark (black?) 2005 model Jaguar XJ, license plate WD06 CCY, probably M's car in the film. The car is similar to Mr. White's Jaguar seen in the last scene in Casino Royale (2006). The same car was also spotted on set with a camera and external steering unit mounted on top of the roof.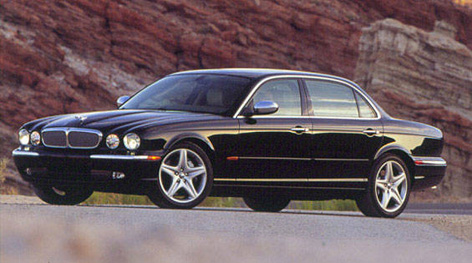 The Jaguar in SPECTRE is very similar to the model pictured above, including the same wheels, but with less chrome details
A grey Range Rover New Discovery Sport was also seen on set, with and without a camera/steering rig on top.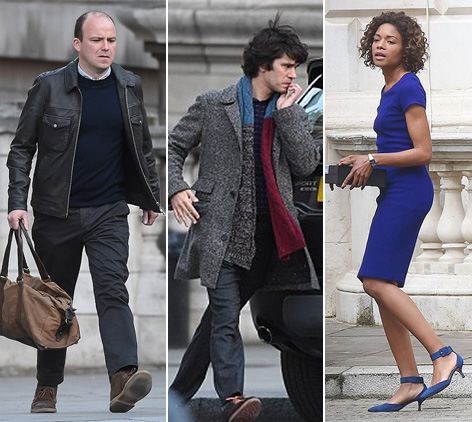 Rory Kinnear (as M's chief of staff Bill Tanner), was wearing slightly more casual clothes than his normal business suit: a brown leather jacket with button pockets and zipper, blue round neck sweater, grey trousers and brown chukka boots, and he is holding a brown canvas bag with brown leather handles.
Ben Whishaw (Q) also wears a casual outfit, which seems to be his style for SPECTRE, including a grey wool coat, a long blue and red scarf, blue and red shirt, grey trousers, dark brown chukka boots with light soles and light coloured laces.
Naomie Harris, who plays Moneypenny, was spotted wearing a blue dress and matching blue (suede) shoes with blue ankle strap.
When more items get identified, you can find it in the Guide to SPECTRE article. More filming in London is expected in the weekend of 6 and 7 June.