Turnbull & Asser James Bond Illustrated Pocket Square
06 November, 2015
Turnbull & Asser created four pocket squares with an illustration of Bond made by John McLusky.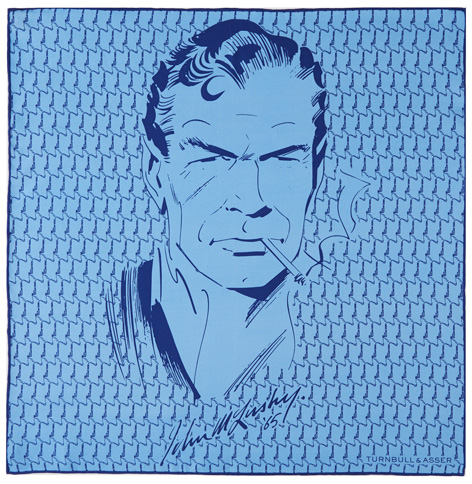 These exclusive pocket squares showcase the original 1958 illustrations by artist John McLusky, based on Ian Fleming's own vision of James Bond.
John McLusky was a comics artist best known as the original artist of the comic strip featuring Ian Fleming's James Bond. McLusky began illustrating the comic strip adaptation of James Bond for the Daily Express. From 1958 to 1966, McLusky adapted 13 of Ian Fleming's James Bond novels or short stories.

The Turnbull & Asser pocket squares are available in four colours, blue, cream, black and red, and are made from silk with a plain weave.
Available at Turnbull & Asser boutiques or online at Turnbullandasser.co.uk for £85.
Turnbull & Asser is famous for having provided several of the James Bond actors wih their shirts and neck ties, see an overview of Turnbull & Asser items on Bond Lifestyle.