Turnbull & Asser Grey Tie with Blue Circle Motifs
Turnbull & Asser Grey Tie with Blue Circle Motifs
photo © Turnbull & Asser
The blue circle motif on the grey Turnbull & Asser tie
photo © Turnbull & Asser
In the movie Die Another Day (2002), James Bond (Pierce Brosnan) wears Turnbull & Asser Grey Tie with Blue Circle Motifs.
The tie can first be seen when Bond watches Gustav Graves land with the parachute in front of Buckingham Palace.
Bond wears the tie together with a Brioni suit, during the meeting with M in the London underground, and in the following scenes where Bond does a virtual training excercise and meets Q and his new Aston Martin Vanquish.
This Turnbull & Asser tie is made in their own manufactory in London. Made from 100% finest quality silk, produced in England. This silk has more warp and weft yarns per square inch than is customary, making the fabric denser and more substantial in both weight and feel. The Blade width (the widest point of the tie) is 3 3/4" (9.5 cm) and the length is approximately 57" (145 cm).
This tie is currently available again (since October 2010) on the official Turnbull & Asser online shop (£125 / $190 / €145).


Black Friday / Cyber Monday 2018 offers
From Thursday 22nd November at 7pm - Midnight Monday 26th November – savings of up to 20% at the Turnbull & Asser website!
Spend up to £250 and receive a 10% discount (auto-applied)
Spend over £250 and receive a 20% discount (auto-applied)
In the USA there is even a 25% discount (auto-applied)
Terms: excludes bespoke, made-to-measure and personalised products
There's also FREE UK delivery on all orders with offer code: FREESHIPAW18
You can use the 20% OFF deal for example for the Legends: James Bond tie collection. This trio of ties are official replicas of original designs worn by Pierce Brosnan during in Tomorrow Never Dies (1997), The World Is Not Enough (1999) and Die Another Day (2002).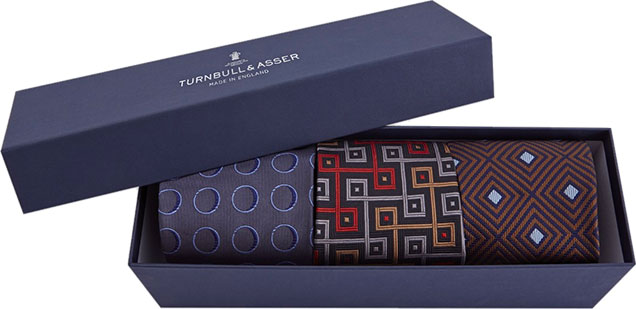 Or get it at one of the Turnbull & Asser store locations:
Turnbull & Asser - London
71 & 72 Jermyn Street
St. James, London SW1Y 6PF
+44 (0)20 7808 3000
Turnbull & Asser - New York
42 East. 57th Street
New York, NY 10022
+1 212-752-5700
Turnbull & Asser - Beverly Hills
9633 Brighton Way
Beverly Hills, CA 90210
+1 310-550-7600
---