Rare Tomorrow Never Dies Samsonite attaché briefcase and Olga Kurylenko's Prada dress on auction
28 June, 2012
David Arnold, composer of 5 Bond films, is auctioning off a brilliant piece of James Bond memorabilia for a poverty fighting charity CARE International – the charity he is an ambassador for. This limited edition promotional Samsonite attaché briefcase was presented to David Arnold, the composer of the film score for Tomorrow Never Dies, for his contribution to the production.
The TND limited edition promotional Samsonite attaché briefcase was made for the release of the movie Tomorrow Never Dies (1998) and contains the following sponsor items: a James Bond special edition Wilkinson Sword Protector razor with additional blades, two bottles of L'Oreal Laque Resist nail varnish, a 5cl. miniature bottle of Smirnoff Vodka and shot glass, leather Omega card holder, a 33cl. can of Heineken, a novelty Ericsson phone calculator, a toy BMW car and an Avis metal keyring, with a letter from Eon concerning the provenance.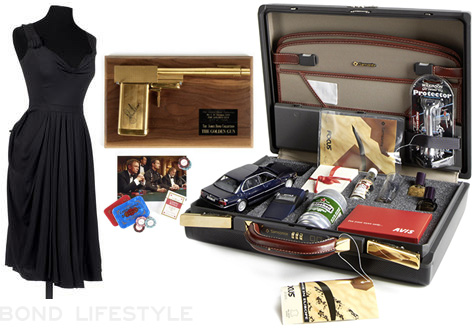 Why not bid and get your hands on some great Tomorrow Never Dies memorabilia at the same time as helping people living in poverty. The auction will take place on July 3rd during the Entertainment Memorabilia auction at Knightsbridge London.
CARE International is a leading development and humanitarian charity supporting the poorest communities in 84 countries around the world. Our aim is to bring sustainable and innovative solutions to complex poverty issues and last year we supported 1015 poverty-fighting projects that reached more than 122 million people. Our mission is to create lasting change in poor communities and we put money where it is needed most. Read more about Care on careinternational.org.uk.
Other James Bond items at the same auction include Casino Royale plaques and chips, a SD Studios Golden Gun Replica signed by Roger Moore and a Prada dress worn by Olga Kurylenko during the filming of Quantum of Solace will be auctioned off (click here for more info on this item on Bonhams or read more about this dress on Bond Lifestyle).
For more information and bidding, visit Bonhams.
UPDATE July 5th 2012:
The Prada dress was sold for £3750, the two Casino Royale chips and plaques sets for £1125 and £1625. The prices for the Golden Gun and Samsonite case are not published yet by Bonhams.