James Bond Club Switzerland organises Goldfinger Reloaded event
12 May, 2014
On September 13th 2014, the James Bond Club Switzerland hosts an exclusive event "Goldfinger Reloaded" to celebrate the 50th anniversary of the movie Goldfinger on the original movie locations in Andermatt, Realp and Furkapass in Switzerland. Special guests include Bond Girl Tania Mallet (Tilly Masterson in Goldfinger) and Norman Wanstall (Oscar®-winner Best Sound Effects Goldfinger).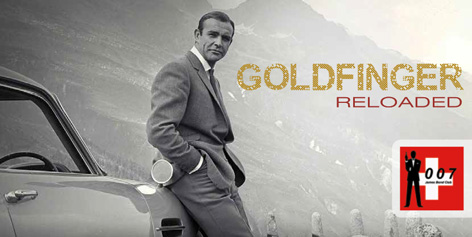 At noon on September 13th, all participants will meet in Andermatt (exact location to follow), after which everyone will ride in a convoy with a bus, a Ford Mustang Convertible, Aston Martin DB5 and Rolls-Royce Phantom 3 over the Furkapass with various stops at the original movie locations of Goldfinger, including a professional photo shoot.

After the tour there will be a dinner (meat and vegetarian options available) followed by autograph-hours (possibility to acquire additional memorabilia, photos, etc.), meet & greet, talk with other surprise guests and more.

The ticket price of CHF 230 / EUR 190 includes:
Location Tour by bus, Ford Mustang Convertible, Aston Martin DB5 and Rolls-Royce Phantom 3
Meet & Greet with Tania Mallet and Norman Wanstall
Professional photo shoot Goldfinger – Reloaded
3-course evening meal
Autograph session
Possibility to acquire more memorabilia
Other surprise guests
and much more...

Signing up for the event is exclusive for Swiss Bond Club members until June 1st 2014, and after that available for everyone, depending on availability.
For more information, visit the James Bond Club Switzerland website or check the Facebook page of the club.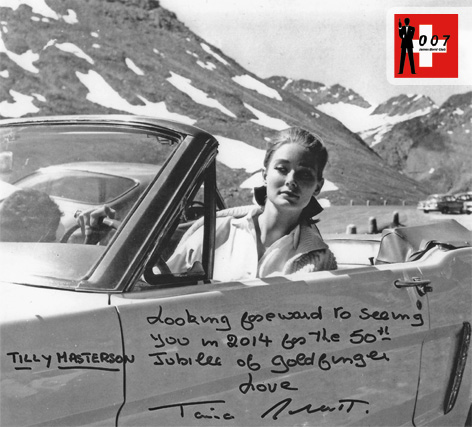 Supporters of the event: