Casino Royale theme song singer Chris Cornell dies age 52
18 May, 2017
Chris Cornell (July 20, 1964 – May 17, 2017), Soundgarden frontman and singer of the Casino Royale theme song "You Know My Name", died age 52.
Cornell rose to fame in the 1990s as the lead vocalist, primary songwriter and rhythm guitarist for Seattle rock band Soundgarden and as lead vocalist and songwriter for the group Audioslave. Cornell also released four solo studio albums, Euphoria Morning (1999), Carry On (2007), Scream (2009), Higher Truth (2015) and the live album Songbook (2011).
In 2006, Chris Cornell co-wrote and performed the theme song for the James Bond film Casino Royale, "You Know My Name". Cornell wrote the song together with David Arnold, the soundtrack's composer.
The song was nominated for a Grammy Award. Strangely enough the sing was not included in the Casino Royale soundtrack. "You Know My Name" did appear on Cornell's second solo album, Carry On.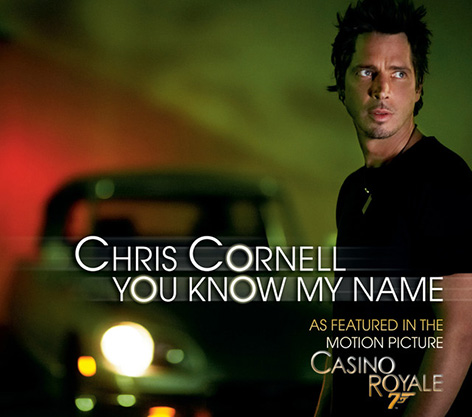 "I (wanted) an orchestra. I didn't want to do a song for a James Bond film and not have it sound somewhat like a James Bond song."
Chris Cornell
Cornell stated that the biggest two influences on "You Know My Name" were Tom Jones, who performed the theme for Thunderball, and Paul McCartney, who composed and performed the theme for Live and Let Die. "I decided that I was going to sing it like Tom Jones, in that crooning style. I wanted people to hear my voice," Cornell said. "And 'Live and Let Die' is a fantastic song. Paul McCartney wouldn't have written it if not for that movie. I [also] wanted to write a song in its own universe. I knew I'd never have it again — a big orchestra — so I wanted to have fun with it."
"You Know My Name" was released in November 2006 and became one of the most successful songs from Cornell and was praised by critics.
Cornell received a Golden Globe Award nomination for his song "The Keeper" which appeared in the film Machine Gun Preacher and was voted "Rock's Greatest Singer" by readers of Guitar World, ranked 4th in the list of "Heavy Metal's All-Time Top 100 Vocalists" by Hit Parader, 9th in the list of "Best Lead Singers of All Time" by Rolling Stone, and 12th in MTV's "22 Greatest Voices in Music".
Casino Royale soundtrack at Royal Albert Hall
It was just announced earlier this week that Casino Royale will be screened at Royal Albert Hall on 30 September 2017 with a live soundrack performance by the Royal Philharmonic Concert Orchestra, including a pre-show talk by composer David Arnold.