007 Fragrances announces the launch of SEVEN
23 September, 2015
007 Fragrances launches SEVEN, the next instalment in its collection of male scents inspired by the world of James Bond. The design of the bottle is completely different from the fragrances released in the past few years, and subtly shows the number 7 in its shape. Also available are a deodorant and show gel.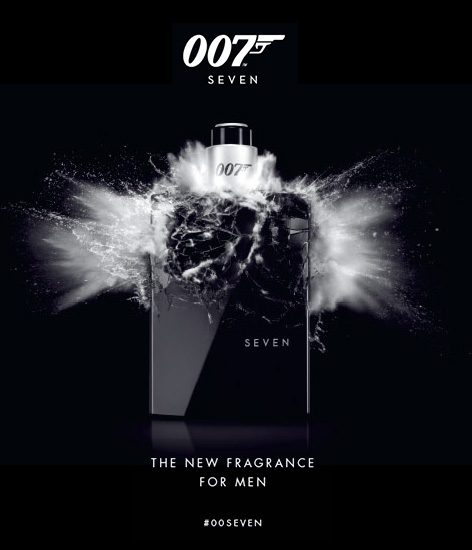 SEVEN draws inspiration from powerful elements within the world of 007 that continually captivate Bond fans. SEVEN is the new premium addition to the 007 Fragrances range. A fragrance with carefully selected ingredients and a bold, sleek appearance.
Another more potent version of the fragrance will be launched as well, called SEVEN Intense.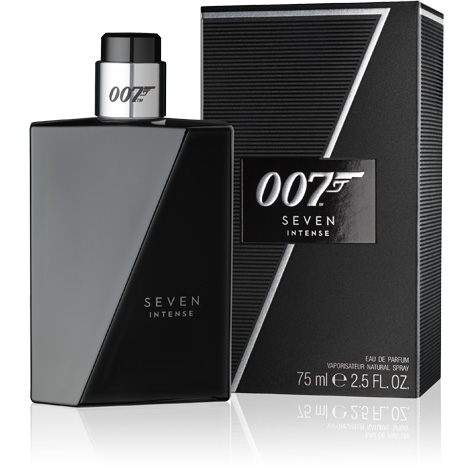 007 Seven Intense 75ml
The fragrance
The top notes of this scent have a striking citrus quality, led by sweet Tangerine and followed by sharp Bergamot and crisp Apple. The heart of the fragrance rapidly unfolds with a domination of spices; Cinnamon, Saffron and White Pepper to ignite the senses. Smooth Amber, Vanilla and Musk combine with Caramel at the base of this fragrance. These ingredients are enriched by Leather, dark Mahogany, Cedarwood and Sandalwood.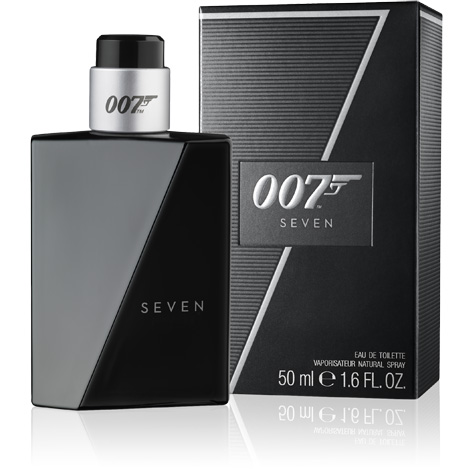 007 SEVEN Fragrance 50ml
The bottle
Presented in black, the flacon's sharp-edged profile offers an additional diagonal contour to create the shape of the number seven, giving the bottle a multifaceted dimension akin to the juice inside.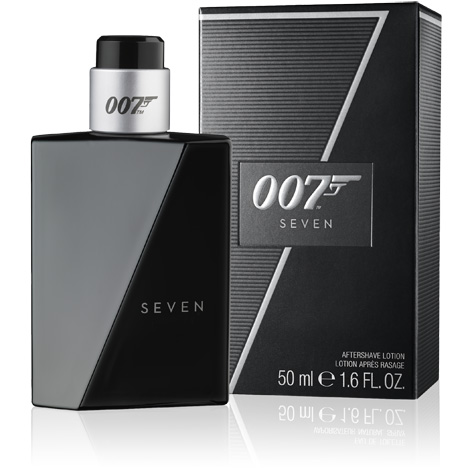 007 SEVEN Aftershave 50ml
The campaign
The TV-campaign was shot by renowned photographer Greg Williams. A bullet strikes the SEVEN bottle and though the shot is invisible to the human eye, it causes a thousand shards of glass to fly apart so that the liquid fragrance inside it disperses. As the shards of the flacon fly through the air, the speed and velocity is beautiful, and unpredictable. The finale draws the flying fragments of the bottle back together.
Greg Williams, 007 Fragrances campaign director comments: ''We wanted to evoke a sense of the excitement and intensity synonymous with 007 title sequences. We used a Phantom camera which shoots 2,500 frames a second, so the moment when the bullet strikes the bottle is incredibly evocative.''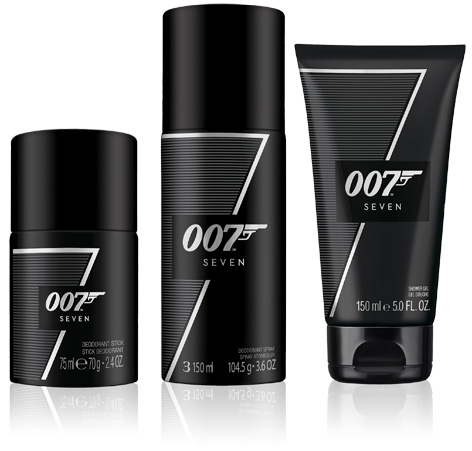 007 SEVEN deo stick 75ml, deodorant 150ml and shower gel 50ml
SEVEN is available starting September 2015, in several editions:
007 SEVEN 30ml
007 SEVEN 50ml
007 SEVEN INTENSE 50ml
007 SEVEN INTENSE 75ml
007 SEVEN INTENSE 125ml
007 SEVEN AFTERSHAVE LOTION 50ml
007 SEVEN SHOWER GEL 150ml
007 SEVEN DEODORANT AEROSOL 150ml
007 SEVEN DEODORANT STICK 75ml
Currently the 007 SEVEN 30ml and 50ml are available online in the UK at Boots, and Debenhams, or find all products on Amazon.co.uk. In the USA the fragrance will be available at Kohl's and for other countries find the fragrances at your local pharmacy chain.
If you have seen the fragrance in a store in your country, please write a comment below to help your fellow fans near you to find the fragrance.
Visit the official website www.007fragrances.com for more information.